The day that I can be outside to enjoy nature is the day I feel refresh, and renew! So many things to do and places to go, sometimes it is hard to keep focus, but if I can be outdoor, looking at the most ordinary things and see beauty in them, I'm happy.



Though there is nothing ordinary about this white swan, it is something that we often see by the water. This gracious creature swims by slowly, showing her beautiful white coat of feathers, and looks for hand-out, but I have none to give.



She swims back and forth in harmony with other creatures of the water enjoying a nice warm sunny day. Her companion was nowhere in sight! She was the only white swan around among the geese and the ducks.



I love watching water creatures, with all their noises and bickering at each other since they are so used of getting fed by humans. These are very friendly creatures around in our park.

See other Critters by clicking on the image below!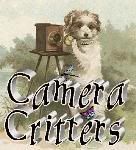 Thanks for being here!