I took the kids to pet stores some times, just to look at different critters that they have. To see the children look so excited and all happy was a real motivation for me to get out of the house during the dreary winter months.

We came upon this beautiful Rare Blue Parakeet, and I couldn't help myself from snapping some pictures.



Many stores don't like you to take pictures of their critters for some reasons, so after a few shots I was told to stop my pictures fanatic behavior. I didn't understand why it was a big deal to them, but I respect their wishes.



I feel so bad for this gorgeous bird sitting in a cage days after days, and my little boy wants to have one. It was on sale too at a reasonable price of $27.99, but I just couldn't keep looking at this bird in a cage.



Can you imagine seeing this bird in nature? Do you think it will be happier flying free, and singing with its kind rather than being isolated in a cage? I might not have a chance to photograph them if they were free, but I can live with that.

See other Critters by clicking on the image below!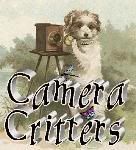 Thanks for being here!