Leaning toward the sun
My branches reach and bend
Craving for those warm light
After such long winter nights


Tuesday, March 30, 2010
Nursing home is not where I want to go when I'm at the end! I made this decision after visiting a beloved couple two years ago. It was sad, and what I saw during those times visiting them, left a haunting nightmare in my soul.

They were left in this place called "Mercy Living" center, after they became seriously ill and couldn't take care of themselves anymore. Even the name of this nursing home ticked me off big time. Mercy Living! What the hell was that suppose to mean? Was there really mercy in the way they were treated? Why, Mercy Living? The shadow of these two words ate me alive the whole time that I was able to visit this couple.



It raised hell in my mind and in my heart. It consumed my thought everyday! I live and breathe the images of a forgotten society. These shadows of darkness followed me. This group of elderly people in their wheelchairs scattered everywhere in that center and the smell...oh the smell of filth...were enough to blow me right back out of those doors.

They were taunting images that assault every sense in my being. I watched my beloved couple helplessly and slowly deteriorated. They were ignored. They were treated cruelly, especially at night when there were no visitors around. They were left to sit in their own filth for hours on end. They were left to sleep through the night on the toilette seat. They were roughly handled if they needed assistance.

Mercy Living? Is this what they called Mercy Living? There is a bitter meaning in those two words. They were mentally tortured my mind.



Why are they shadows of darkness? For one reason, and one only, my time is coming! I will get there, becoming part of a forgotten society, depending on the mercy of others, waiting day after day to see a beloved face, and hoping to end the misery of life.

The images of not only my couple, but all of those elderly people still make me sad, and haunting my thinking of tomorrow.


Thanks for being here!


Monday, March 29, 2010
I love putting pictures in a collage, and recently have done so in the last few posts. The mosaic or collage give such an interesting general look of the whole pictures series.



When you think of parakeets, don't often think of green or yellow feathers birds? I saw this beautiful Rare Blue Parakeet in a pet shop, and you can see their individual pictures here. I just fall in love with this gorgeous parakeet, and its color.


Thanks for being here!


Saturday, March 27, 2010
I found this bee sleeping on my pink snapdragon flower one early morning last summer. At first, I didn't know that the bee was in it hibernation stage, but after carefully observed its non-movement for a while, I quickly realized that the bee was sleeping.



Later, I also learned that some bees just got stuck on the flowers when they were wet in the morning dew. The bees stayed totally still until they warmed up in the sun.



To test out my theory that the bee was asleep, I jiggled the flowers a little to see if it moved, and ended up with a blurry picture. So for those that are not fond of bees, if you want to take pictures of them, early morning is a great opportunity to snap these amazing critters.

This post is linked to Pink Saturday, and Camera Critters!

Friday, March 26, 2010
It was last Friday night, when my little boy decided to be creative, and served me dessert! I heard lots of noises in the kitchen while working on the computer, and out of the blue he brought me this dish of dessert.



Imagine my surprise and sheer joy! I made this jello earlier on in the day, put it in the refrigerator, and forgot about it. As always, I was just too busy writing my assignments or trying to catch up on my blog.



My little boy took out the melon cutter, worked carefully to create the ball shapes of this jello, picked out a cute bowl, and brought it to me! He was so proud of his creation and told me to take pictures. Of course, how could I say no to such a thoughtful act from a child?



Even though I had a different idea when I made this dessert, like adding fruits to it, but the simplicity of what my son created just took my breath away. His gesture gave that extra yum to this dessert, and I am grateful.

Tips--You can buy this package at Oriental market, follow the direction on it, and have a quick cooling dessert in less than an hour.

Feast your eyes on other dishes at

Thanks for being here!
Thursday, March 25, 2010
While staying at the hospital, the white toy dog was my closest friend when Captain Cook wasn't around. I ate, slept, and played. I didn't have to wake up early to do chores. There was no yelling no punishment, or beating. Just joy and rest!

The two African-American soldiers kept a really close eye on me, but with language barrier we couldn't communicate. They just smiled a lot. I was too young to concern about their injuries or why they were there. I remember Captain Cook used to come to visit me after five o'clock. He always brought a piece of candy, an apple, or an orange and watched me eat.



At the orphanage, I often went to bed with an empty stomach. A cup of rice or two wasn't enough to nurture the whole day of work my body had to take. We ate lots of vegetables and we had fishes once in a while. There was no meat or fruit available. Everything we grew or harvest at the orphanage had to be sold or exchanged for other commodities.

I had to work from dawn to dust to earn my meal, but at the hospital I didn't have to do anything and my stomach was always full. It was an incredible feeling, even for a little child to hold in. I got to wander around the ward. I got to be a child. Frighten, lonely, confused, but a child at last!



Captain Cook held me back in the hospital for as long as he could, but we all knew that day had to come sooner or later. He had no rights to keep me. The hospital ran out of beds to keep me. I couldn't remember if I was sad at all. It was what it was, a short happy fairy tale that I didn't ask for, but got to live it.

I had enjoyed my stay, and shared some joyous moments with people that I didn't know or saw again in my life. Captain Cook and I both knew that it was time to go back to reality without fuss.

Check out other entries at Jenny's blog!



(View my Childhood Series here!)

Wednesday, March 24, 2010
I'm growing in the grace of light
From the sun and rain above the sky
I shine and inches myself through earth
And grow and grow in glorious delight.

Spring is here and I'm finally wake
I sing along for a gorgeous season
The wind blows by caressing its touch
I'm reaching, holding with glorious delight!



Thanks for being here!
Tuesday, March 23, 2010
A loud knock at the back door startled me, especially when it was later in the evening and I was home alone. As I slowly opened the door, she busted in like lightening! I saw fear on her face. I heard agitation in her voice. I felt anger radiating from her body.

We fell in a mutual sweet embrace. A very short moment to linger on a love that was so pure! She huffed and puffed words of despair, "I want to divorce that bastard!" I heard it loud and clear. I heard it many times before. She was lost in that marriage a long time ago. She was still lost in a relationship that slowly strangled the living life out of her.



I lent her my ears. I offered her comfort. I answered all the questions that she had about divorce, child support, and custody. She pursuit this subject with a passion every once in a while. But at the end, she still decided to stay and hung on for the kids' sake. She had five of them to think about. Two were wheelchair bound. Two had flown the coop, and one teenager boy was still home.

She knew what she wanted, but giving up the life that she was used to is unthinkable, no matter how miserable she had been and felt. I stood by her decision for years. Helpless and bewilder. However, I could also relate so well to her situation. Been there, done that, as the saying went! We were all lost in the space of time.



She just needed venting out. She just wanted someone to stroke her back, and told her everything would be alright, despised all the troubles. She needed personal space, whatever it was! A safe space to let out and released anger, unhappiness, frustrations, and listened to her. Really listened and heard her silent cry. She needed someone who understood her language, shared her pain, and her sorrows.

I respected her space. I gave her the space she needed to dump it all out. After all, that was what friends do, and she was there for me when I went through my hell. Before leaving, she asked, "How do you know when it is time?" I assured her, again and always, "You will know, you will know!"

Thanks for being here!


Sunday, March 21, 2010
Orchid is one of most fascinating flower to me. I have seen a variety of orchids in different colors, shapes, and sizes. Some orchids are just simply exotic, rare, and gorgeous.



I'm terrible at growing indoor plants or flowers. They all seemed to wither and died after a while for some reasons. I can manage to grow other flowers and vegetables out side though.



This orchid was taken at a Conservatory last year. I love the color and the way this flower looks. It is absolutely stunning to see, and enjoy.

Now that the weather is warmer, I can't wait to see what will bloom in my garden. It is also nice to be able to spend more time with nature.

See other entries below!




Thanks for being here!

Saturday, March 20, 2010
I got stunk twice by the bee, but not because I was taking picture of them. In fact, they were such a freak accident that still left me wonder if I could have done anything differently. Both times that I got stunk by the bee were when I just sat there and did nothing.



Last summer, I became obsessed with taking the bee pictures. I stood in the middle of buzzing bees to watch them, and to take pictures of them. I'm not allergic to bee's stink, and nothing happened to me while I was there.



I moved very carefully around the bees, and quietly snapped the pictures. I love these tiny flowers since they were always very busy feeding the bees. I'm not sure what these flowers are called, but they're gorgeous.



I have seen honey bees too on these flower bushes, but I didn't have any good pictures of them. Some of the bumble bees were huge, and hairy. I think bees are fascinating to watch, not to mention their important roles in making the world goes around!

See other Critters by clicking on the images below!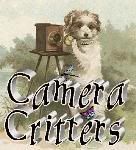 Friday, March 19, 2010
I only have to cook for two people in my family, and my little boy is a picky eater. I confess to only cook about two or three times a week, since one of my meal is served as left over for the next day.

Yes, we live on a budget just like everybody else, and cooking at home is the best way to stay in control of my finance.



Gather Your Ingredients

1 package of cut up beef stew, cost about $4-$5 dollars
1 loaf of french bread
A handful of baby carrots
2-3 celery stalks
1 large yellow onion
2 stalk of green onion
1 small can of coconut milk
3-4 Tablespoons of mild curry powder
Cooking Your Stew
Fill a large pot with water, and combine yellow onion, celery, beef cubes, and carrots to simmer them out. Season it with salt and pepper. When the beef is tendered, add in curry powder and coconut milk. The broth should be a bit thickening after another 15 minutes. Discard celery and yellow onion as they are used for broth.
Sprinkle chopped green onion on top of your stew and serve with French bread.
Tips
Add chopped sweet potatoes or potatoes for a heartier meal
Toast up your bread for crunch to dip in the stew
Feast your eyes on other dishes at
Thanks for being here!
Thursday, March 18, 2010
Waking up in a tub full of ice cubes and was not able to move scare me. Although I was not strong enough to stir, I realized quickly that I was in a different world, a very clean and sterile world.

I remember every time I woke up, Captain Cook was there looking at me and smiling to comfort the little confused girl who had no idea where she was. My parents were not notified, thus I was all alone under the care of Captain Cook and the Military Hospital. I was treated with kindness, loving, and in constant companies with every personnel in this part of the ward.



I was in and out of consciousness for many days onward. I never asked for my aunt nor saw her. I didn't even ask for my parents, nor my brothers and sisters. I was alone. I was seriously sick. Ice cubes kept pouring on top of my body, and the only person that I felt close to was Captain Cook.

He didn't miss a day visiting me. I was more his daughter than a daughter could be, and he was more of a father to me than a total stranger. My life was literally in his hands. By the second week, I was moved into a regular bed along with other soldiers. I was out of danger and on the way to recovery.

When I finally gained total consciousness, I found my bed between two African American soldiers, and screamed on top of my lung. As I turned to my right side, one would smile at me with his pearly white teeth, and as I turned to my left, the other did the same. My screamed set off the panic button in the ward, and Captain Cook came running to my side. When I pointed to the two African-American soldiers, they all laughed.

That was the first time I saw African-American people, but we became friends while I was in the hospital afterward.



The next two weeks of recovery were just heaven. I remembered laughing, smiling, eating until my belly belched, drinking soda and juice for the very first time. He was always there every day. My Captain Cook! He made sure that I was properly taken care of. A very intensive care in its true meaning! An intensive care even when I was well.

One day Captain Cook surprised me with a little white toy dog. I remembered it well. The dog had a very long hair, all white, and came with a little blue comb hanging around its neck. He taught me how to take the comb out, and played with the dog. It was the most beautiful and precious toy I had ever seen in my entire life.

He ordered that toy dog the day he took me in to the hospital, all the way from America, and I was finally well enough to play with it.

Check out other entries at Jenny's blog!




(View my Childhood Series here!)

Wednesday, March 17, 2010
The snow is melting fast as we go into spring, and I am more than happy to shred my winter layers. Now, I could stay outside for longer period of time and enjoy the warmer sun light on my face.
I saw this little pine branch in a pine of slushy snow and ice last week as the weather warmed up. The little crushed ice was sparkling under the sun.
Nothing is fancy about this little pine branch until you actually see it half buried in the ice, and shined through.
I'm pretty sure that winter is pretty much over for us this year, and these will be the last of my snow and ice pictures.
Tuesday, March 16, 2010
My oldest boy, 24, living in another State called and asked for help with his financial issues. I flatly said no thinking that he got himself in to this mess, and he must work it out by himself. After all, he has a full time job, moves away on his own will, and lives with the people that I disapproved.

There I said it: disapproved! It feels good to just even admit it in word! It's like a confession to cleanse the soul.

The motherly duty in me, wanted to take on his hardship and relieved him of his misery. Then again, the reality hits me! I can't afford to pay my own bills let alone adding on another. He has no ideas how hard life is for me because I have always bailed him out whenever he needed help.



Truth to be told, I resented the fact that he just picked up and moved to another State to live with his girlfriend and her family. I acknowledge the fact that he has to make a life for himself, and it is a normal healthy way.

However, while he takes on the responsibilities with another family, no one is here to help me with anything, and on top of that, I also have to pay for his car insurance and his cell phone. In turn, he literally disappeared without even a phone call for a long time, until he was in trouble.

I'm bitter of course! It is in my human nature to feel abandoned, neglected, and unappreciated!

After assessing my situation, I decide not to take on his burden. I can't afford it! I can't squeeze any more out of my life than I already have. My skin is getting way to wrinkle to worry. I need to start thinking about my future, and my life too. Who will be here for me when I need help?

Maybe it is time for me to learn to be selfish, a little!

Thanks for being here!


Monday, March 15, 2010
One of my deep secret fears as a parent is that my children would turn out to be like the X. Selfish, inconsiderate, and ill manners! I hold myself responsible for what type of a person they each become. Just as much as I hold his parents responsible for who he has become.

The question is: Can we hold the parents responsible for how our kids turn out? The way they act, the way they talk, or how they handle life can actually tell what they have absorbed through their childhood and parents' teaching or not teaching.



For twenty years, I live with a self-absorbed man who puts himself on top of everyone else. No wait, I take that back! Besides himself, there are his parents, his sister and brothers, but not his wife and his children. Why, I don't know! He has a hold on them as if he was still a child.

I was pretty sure that his parents love the fact that he still needed them too. They didn't bother to question their son why he didn't come back to his own house after work, where his wife and kids were waiting, instead of coming to their house every day. It seemed as though they tried to re-create the past.

Yes, I hold them responsible for who he turns out! I mean, if a person is lack in the thinking part, shouldn't the parents teach him/her something? Say something! Raise a few questions!



With this kind of fear creeping into my thoughts, I constantly have to correct my children when I see an undesirable behavior. As a parent, I think it is my job to teach them the right ways and the wrong ways. If they don't see it or don't agree with my opinions now, at least they have been exposed to the issue, and they could make judgment then.

My children so far have very little trace of the X's behavior. I taught them to be on time, and respect other people's time. I taught them to think before they talk. I taught them to be careful in the words that flying out of their mouths.

Yes, this is my fear! That one day their partners might hold me responsible for their irrational behaviors.

Thanks for being here!