For a while, I like the ready made pasta in the bag by Bertolli when they first introduced them to the public. The price was decent at about six dollars a bag, and they didn't taste that bad.

This ready made pasta was great for my family since we were on the road five evenings out of seven, for my little boy's soccer games and practices.



Take a look at the picture above, and you will see these ingredients:

shrimps--about 20-25 medium size, peeled and deveined

asparagus--one bunch, cut into bite sizes, washed, and steamed to tender

tomato--2 medium size, washed and cubed

minced garlic--1/2 teaspoon

pasta--your choice and cooked following direction on package

cilantro--washed, and chopped into 1 inch in length
The process
of putting this Shrimp Asparagus penne pasta is very easy. It is a great imitation of the Bertolli pasta, and it contains all natural ingredients.
After your pasta is cooked, mix in a little Extra Virgin Oil, or margarine to keep the noodles from sticking together. Set aside!
Steamed your asparagus until tender to the fork. Or microwave them for about 2 minutes
In a frying pan, add one teaspoon of cooking oil with half teaspoon of minced garlic
Put in your cubed tomatoes and shrimps
Cook for about five minutes or until shrimps turned color
Combine the cooked pasta into this pan with asparagus.

Toss up well and serve with cilantro on top

Tips
Replace shrimps with beef, chicken, or pork to your liking
This meal can serve four people
Affordable and healthy
Asparagus can be replace with broccoli, or other favorite vegetables

Feast your eyes on other entries below.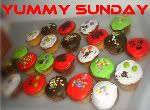 Thanks for being here!